After leaving Keukenhof, in the rain, we went back to Amsterdam to visit the science museum, NEMO.  Good activity for a rainy afternoon! 
Parking is extremely expensive in Amsterdam (something like 35 Euro a day at the hotel) so we decided to try leaving the car at a Park and Ride area in the outer loop of Amsterdam.  Basically, you can park your car there for 6.50 Euro a day, and take public transport into the city.  They even give you tram tickets for the round trip, so it's a pretty good deal.  We parked there and caught the tram in to Central Station, maybe a 10 minute ride.  Then walked, in the rain, to NEMO.
NEMO is a hands-on science center with lots of different educational exhibits and displays.  We made big soap bubbles, learned about making bridges and dams, made the motors on model airplane-type things run with solar power, learned about genetics (if Grandpa and Grandma have blue eyes, and Dad has blue eyes, will the kid have blue eyes?), took personality tests…seems like kids are fascinated by the same things no matter what language they speak.  Most of the exhibits in NEMO were in both Dutch and English, so we could actually read what we were looking at.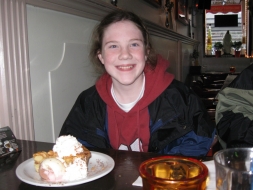 When we finished at NEMO, the sun was out.  We went back to the city center, around the Flower Market, and had dinner.  We ate at a place called Da Antonio, mostly because the owner (I assume he was the owner) came out and talked to us as we were looking at the menu.  It was a tiny little place; no one else was there right then, although a couple came in later.  Still, the man was very friendly and the food was good.  We had Dutch pancakes; I had Dutch cheese and Roy had a ham and egg pancake!  Which, by the way, he covered in syrup (just like a Cunningham).  Even Rebecca had a chicken pancake (not Wienerschnitzel?!)  We also had apple pie and coffee.  I think the man did the cooking as well as everything else; I gather he owns the place and just does everything.  We had a little chat with him and he gave us a map of Amsterdam (we didn't have the heart to tell him we were leaving the next day).  For solid, decent food at a comparatively reasonable price, and friendly service, Da Antonio is a good choice.  An agreeable close to our stay in Amsterdam!
[Not a valid template]
Related Images:
Tags: Amsterdam, The Netherlands