We stopped for the night in Dresden on our way back home from Poland.  Unfortunately, it was chilly and rainy and gray, but we took the bus from our hotel to the Altstadt just to see some of the sights.
First stop was the Neumarkt square, with the famous Frauenkirche.  The Frauenkirche was bombed into rubble in World War II, and was left in ruins until 1994.  Reconstruction of the church started in 1994, and the church was "reborn" in 1995.  There's a bronze statue of Martin Luther which survived the bombings; it was restored and replaced outside the rebuilt Frauenkirche.
The sun came out just a bit while we were in the square.  I liked the wide open spaces and clean, bright colors.  We also saw a couple of people dressed in historical costume–not sure what the event was, but it was interesting to see.
From Neumarkt, we climbed to the Brühlsche Terrasse and looked over the Elbe River.  There are some beautiful buildings along the terrace, including the Ständehaus (used to be the Saxon Parliament building and today is the Saxon Court of Appeal) and the Kunstakademie (Academy of Fine Arts).  The views across the river must be really nice on a clear day.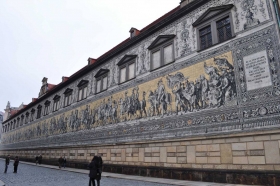 We walked along the terrace and then down the stairs toward Augustusstrasse and the Schlossplatz.  On Augustusstrasse, you can find the Fürstenzug or Procession of Princes, a 334 foot long mural made from 25,000 porcelain tiles.  At the other end of Augustusstrasse (past all the tourists taking pictures of the mural), is Schlossplatz, where you can see parts of the Residenzschloss (including the Georgenbau entrance and the Hausmannsturm tower) and the
Hofkirche
.
We circled around for another look at the Frauenkirche, and started hunting for a place to eat.  Note:  Neumarkt is a nice place, and there are a lot of restaurants, but don't look for German food there!  We ended up going back to the hotel to eat at their restaurant.  The hotel was a nice little hotel, away from the center of the city, but it was comfortable.  The breakfast in the morning was really good.
Before leaving the city in the morning, we took a quick drive into Neustadt, to see Pfunds Molkerei, "the most beautiful dairy shop in the world".  It is a nice place, full of sculpture and enamelled tiles–apparently it's all Villeroy & Boch and worth a mint.  They don't want you taking pictures in there, so I got a photo of Rebecca outside instead.  Roy paid a couple Euro just to get a little glass of their fresh milk (very rich!)  We had some time on our parking ticket, so we took a turn around the block and stopped at a coffee roaster to buy some fresh roasted coffee beans, and also got a few pictures of Martin Luther Kirche.  It was a decent end to our Spring Break trip for 2010.
Related Images: